AERIYAL
was born May 5, in London, England.  Being a military brat, Aeriyal was fortunate to live and see a wide variety of cities and cultures.  Her family finally settled in Jacksonville, Florida.
Aeriyal has always loved music since the day she was born. When she would cry the only thing that would soothe her was the sound of music.  At the early age of 2, Aeriyal loved to sing songs from Brandy's Album.  She would hear a song from Brandy and next thing you know she is up dancing and singing. When Aeriyal was 3 years old, her family took a trip to Disney world.  She was captivated by the performers singing on stage.  That is where she first got the bug and attraction to the stage.  She was able to get on the stage and sing, "The Greatest Love of All" by Whitney Houston and gained an arousing applause.
Aeriyal spent most of her time during Elementary and Middle School performing in several talent shows, plays, step shows, and playing basketball.  She was known as "the little bitty girl with the big loud voice" on the basketball court. She also earned the nickname "Mike" (for Michael Jordan).  Aeriyal was a very aggressive basketball player.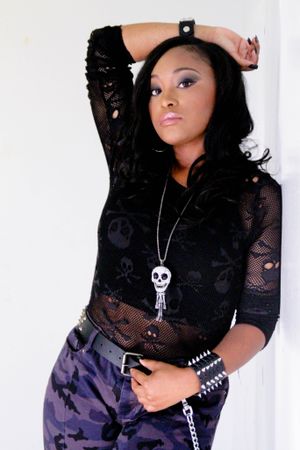 Once Aeriyal reached high school, it became very challenging. She had to leave friends from Middle school she knew since kindergarten and attend a school on the opposite side of the city.  Aeriyal tried out for the JV Basketball team and made it. However, that wasn't enough for her.  She was still bitten by the bug and the stage constantly called her.  Music was still her true passion.  So, in 10th grade she decided that basketball was no longer something she wanted to do.  She joined the school's Chorus and felt at home there.
In late 2014 Aeriyal discovered GUDGUD was looking for a new member.  She was so excited and wanted to meet the girls in hopes to gain an opportunity to audition for the group.  She finally met the girls at the mall where they were performing a Christmas concert.  She spoke to their manager about auditioning for the group.  She sent in an audition video and got word to come in for an audition.  She didn't get picked to be in the group but another opportunity knocked at her door.  She became a dancer for GUDGUD and was able to travel on tour with them.  After much work, dedication, and growth Aeriyal became a solo artist for the I Love Music Foundation.  Through all of these changes GUDGUD was changing at the same time. Two of the members were leaving.  Despite it all, she kept on believing in GUDGUD and wanted to continue what she had worked so hard to accomplish. TO BE IN GUDGUD……
In October of 2015, the moment Aeriyal had been waiting patiently on finally arrived. "It's my time now" stated Aeriyal. Being in GUDGUD is a dream come true.  She never stopped believing.  Aeriyal states, "Just know that if you think positive, be positive, positive things will happen for you just like it did for me."
Aeriyal feels that Gracious, Krishelle, and she all have a common bond.  All 3 of them were background dancers who could sing.
Aeriyal enjoy listening to Whitney Houston, Jennifer Hudson, TLC, Keyshia Cole and old school music from the 70s, 80s, 90s.   Aeriyal truly believes that nothing comes to you on a silver platter. You have to put in work, be dedicated, and go after what you want in life.
Just keep on believing it can happen for you and it just might.